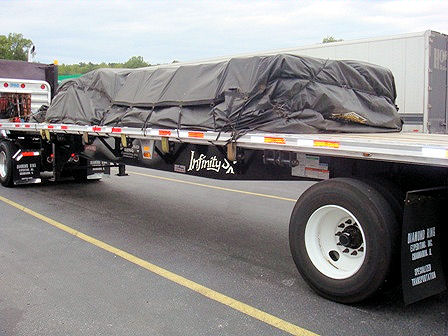 OVERVIEW
Steel, being heavier, generally will be your shortest load on your trailer, so you may not need 8′ of tarp material to roll up on the sides like our Lumber Tarps. That's why you would use the short sided tarp. It's good for sheet steel and rebar. There is no flap on the front. And it usually has two (2) rows of "D" rings, sewn along all four (4) edges. They are also good if you have a load of crated material, and they only want a top cover to keep dirt or wetness off of the top. STOCKED and ready-to-ship covers or Custom Made.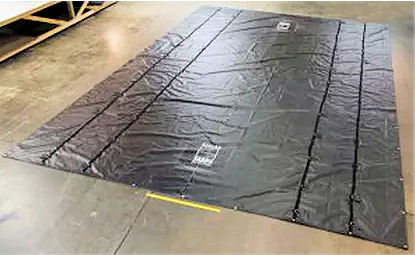 Heavy Duty Material
Our standard steel tarps are constructed from an industry standard 18oz PVC material. This material will ensure that your load is safe and dry in the most extreme conditions. We also offer a thinner 14oz material and other materials to choose from.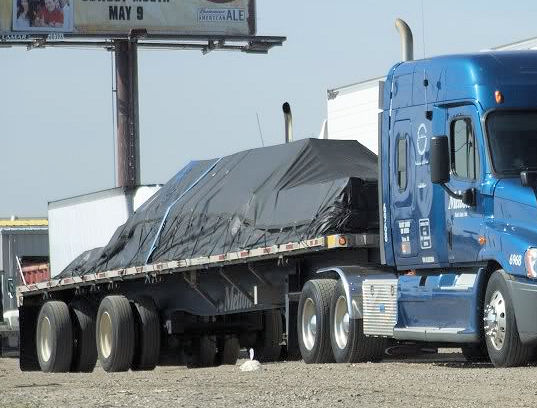 Features
18 or 14oz PVC – Stocked Black or Custom Colors
Grommets every 24 inches
D-rings every 24 inches
Wear patch behind each D-ring
Cover up to 53′ long trailer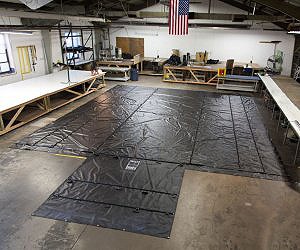 Optional Box Ends
The boxed ends can be at the front, rear or both ends of the tarp and can be adjustable with D-rings and other options. The boxed end at the front of the load will minimize noise to the driver and protect the load from smoke and weather. The boxed rear end of the tarp will protect from the elements to assure an undamaged load.
Vinyl - 18oz (
Heavy Duty

)
Vinyl coated polyester reinforced with scrim
Waterproof, rot proof, shrink proof
High tear and abrasion resistance
Finished edges for clean crisp appearance
Temperature range: -10° F to 160° F
All colors are the same price
Vinyl - 14oz (
Light Duty

)
Vinyl coated polyester reinforced with scrim
Waterproof, rot proof, shrink proof
High tear and abrasion resistance
Outdoor rated
Finished edges for clean crisp appearance
Temperature range: -10° F to 160° F
All colors are the same price
25% lesser weight than 18oz
Stronger than the other lightweight tarps made out of parachute material
Grommets
Spaced vertically in 2 to 3 rows depending on height
Spaced every 24"
Used to tie down covers
Solid toothed brass
Rust resistant
D-Rings
Spaced in rows for tight tie down
Spaced every 24"
Used to tie down the cover
Sized for industry standard tie down straps
Wear patch behind D-rings to prevent bungee cord wear
Rust resistant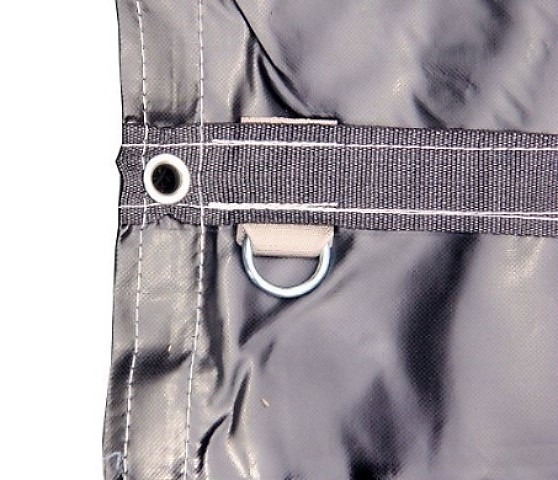 Made from One Piece
16'w x 24'6"l
16'w x 26'l
12'w x 27'l
16'w x 16'l
16'w x 18'l
16'w x 20'l
16'w x 24'l
16'w x 27'l
18'w x 20'l
18'w x 24'l
20'w x 18'l
20'w x 20'l
20'w x 24'l
24'w x 18'l
24'w x 24'l
24'w x 30'l
28'w x 18'l
30'w x 30'l